"JOCK OF THE BUSHVELD"
From the wilds of Africa comes Sir Percy Fitzpatrick's immortal story of Jock: a dog with more courage and heart than the greatest of heroes. The runt of the litter and sentenced to a watery grave, Jock was rescued by Fitzpatrick and became his steadfast companion. Accompanying Sir Percy on his travels, this dog, small in stature but great in strength and soul, fought many battles against voracious creatures such as baboon, sable antelope and kudu. Tenacious throughout, Jock braved a lonely evening in the wilderness guarding his hunt from nocturnal predators, running back to camp at dawn, triumphantly showing his concerned master he had survived his ordeal. Tragically, while chasing a kudu, Jock was gravely injured, resulting in permanent deafness. Not able to live a normal life and prone to further injury, Jock was looked after by a friend of Fitzpatrick, Tom Barnett. This valiant little canine fought boldly, protecting Barnett's stock from a marauding wild dog, killing it but then in turn, was tragically mistaken for it and shot. Jock's memory still stoically lives on in the first privately operated concession within the Kruger National Park – Jock Safari Lodge.
2007 is the centenary year for the Jock of the Bushveld book which was first published in 1907.
At a Glance
Accommodation

Main Lodge
12 Luxury Stand-alone Suites
Each Suite has its own plunge pool
African Cuisine
Fitzpatrick's at Jock
3 Luxurious Suites are equipped with their own viewing deck
Indoor or Outdoor showers
Personal Chef & Game Ranger

Game Drives
Bush Walks
Night Drives
Rock Art
Informative Game Walks
Children under 6 years are unfortunately not allowed on game drives and children under the age of 12 are not permitted on game walks
THE ROUTE TO JOCK SAFARI LODGE
BY ROAD
Jock Safari Lodge is accessible by road using any of the entrances to the Kruger. The closest Kruger National Park entrance (southern Malelane gate) to Jock Safari lodge is reached by using the N4 from Nelspruit (approx. 61 km from Nelspruit). From the Malelane gate to Jock, it is a further 40km. The designated speed limit within the park is 50km/hr.
The drive from Johannesburg to Jock Safari lodge via Nelspruit takes approximately 5 hours using the scenic N12.
Park gates open at 06h00 and close at 17h30 in winter (May to September) and open at 05h30 and close at 18h00 in summer (October to April).
BY AIR.
3 Daily scheduled flights from Johannesburg International Airport to Skukuza – which is booked through Jock Safari Lodge.
Direct flights from all major international airports land at Kruger/Mpumalanga International Airport (KMIA). There are scheduled flights daily with S.A. Airlink and Nationwide while registered air charters can also be arranged. Road transfers from KMIA to Jock Safari lodge can also be booked when making a reservation.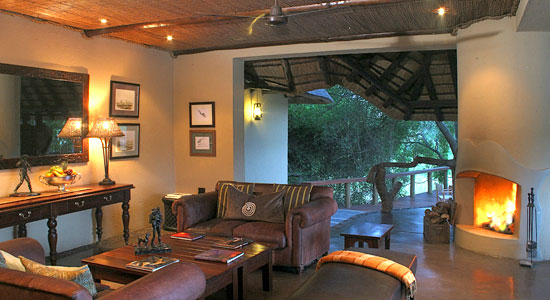 GUEST FACILITIES AND ACTIVITIES
ACCOMMODATION
MAIN LODGE
The Main Lodge at Jock Safari Lodge has twelve individual thatched suites, screened by lush trees and reed walls, offer guests utmost luxurious privacy, creating a unique experience of gracious old world elegance surrounded by unspoilt wilderness. All the suites are named after places of interest in the tale of "Jock of the Bushveld" - the treacherous Pettigrew's Road, the trading posts of Delagoa Bay and Komatipoort. Each suite, with queen or twin beds enveloped in a canopy of voluptuous white netting, has its own personal "sala" (thatched viewing deck), plunge pool, romantic Victorian ball and claw bath, his and her vanities and outdoor shower. The suites have been built overlooking the rivers and offer breathtaking river bed frontage, bushveld vistas and game viewing. Each suite is also fully equipped with 5 star amenities such as air-conditioning, fans, tea and coffee making facilities, private bar and safe.
The romance and elegance of the past are reflected in this unique luxury lodge. Interesting aspects include historical wagons of this bygone period strategically parked in and around the lodge – one is found parked under the thatched porte cochere of the main reception.
A small business centre is available for internet access while a cosy lounge and library invites one to curl up with a book, reflecting on the tranquil, lethargic beauty Jock has to offer.
Fitzpatrick's at Jock
Fitzpatrick's at Jock has 3 suites; which will ensure that personal service is always a priority for the lodge's friendly staff. Each of the 3 luxurious suites are equipped with their own viewing deck, indoor or outdoor showers and guest amenities. While the dining and entertainment area offers both alfresco and indoor dining facilities allowing guests the unique opportunity to experience the gracious style of old world elegance surrounded by unspoilt wilderness.
Fitzpatrick's at Jock's suites boast beautiful views into the unspoilt Kruger bushveld and guests can also relax in the comforts of the central lounge overlooking the banks of the Biyamiti River. This new lodge can either be booked as a whole lodge with its own personal chef & game ranger or as individual suites. As with Jock Safari Lodge, Fitzpatrick's at Jock will have exclusive traversing rights in an area that is regarded as one of the best in the Kruger for its "big five" sightings. Friendly and professional staff will cater for all guests' requirements from specialised game drives or game walks - with every sound, scent, footprint or broken blade of grass – as sign waiting to be interpreted and understood. The main lodge spa will also be available for Fitzpatrick's at Jock guests should they request spa facilities.
Guests at Fitzpatrick's at Jock will be able to enjoy snacks and meals in the privacy of their suites or join other guests to sumptuous meals under the African sky while the chef and his dedicated team conjure up traditional dishes inspired by this unique location.
CUISINE
At Jock African cuisine is offered which incorporates an abundance of flavours accumulated on the routes followed by Sir Percy Fitzpatrick. The head chef at Jock and his passionate team conjure up dishes of legendary proportions, allowing the taste buds to follow their own African journey. The cuisine is served in a variety of locations - from fine dining in or outdoors to a gourmet adventure in the Lapa under the canopy of African night skies. Climbing wooden stairs that wind through a 400 year old Jackalberry tree, leads on to the upstairs bar area with a viewing deck overlooking the rock pool and Biyamiti River. Comfortable leather couches inviting one to enjoy an aperitif before dinner or relax reflecting on the day that was. The soul of Jock and its people, delight in making one at home, informally yet attentively ensuring luxurious comfort and relaxation, leaving one with lingering aftertastes of the essences of Jock and the Bushveld.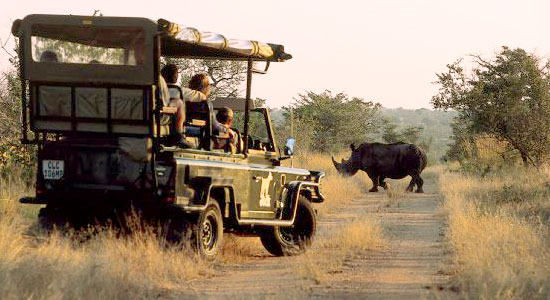 GAME DRIVES AND WALKS
Morning and evening drives are performed in covered 4x4 Landrovers conducted by highly experienced rangers. Traversing through the reserve, the wildlife is sometimes staggering in its diversity. Enthralling sightings of elephants, a sea of buffalo horns rising from the grass as they lie resting in the growing heat as well as prides of lions, awaits one. At dusk, a vantage point is chosen overlooking one of the many breathtaking vistas of the Kruger National Park. Sundowners are enjoyed while tales of the bush are told and a glimpse of what this unique wilderness has to offer is seen while being entranced by the ever changing colours of the sky as the sun slips into the timeslot of tomorrow. En route back to the lodge, nocturnal animals such as leopard, hyena and lion are often seen.
Walking Safari's are encouraged, after a hearty breakfast, moving through the veld enjoying vistas of unsurpassed beauty and discovering one's place in the cycle of nature. The diversity of fauna and flora in this unique concession truly comes alive when viewed on foot.
Child policy
The child policy at Jock Safari Lodge is as follows;
Adults/Children under the age of 16 years are not permitted on any walking safaris.
Children under the age of 12 years are accommodated by prior arrangement only.
0 – 2 Year old children to share with parents at no extra charge, but are not permitted to join the game drives.
3 – 6 Year old children may share a room with the parents and will be charged 25% of the normal rate, which includes meals, accommodation, but are not permitted to join the game drives.
7 – 11 Year old children either sharing a room with their parents or in a separate room will be charged 50% of the normal rate, which includes meals, accommodation and game drives.
Children from 12 years old will require a separate room at the normal rate.
A maximum of one (1) child under 12 years sharing a room with 2 adults at Jock Safari Lodge, subject to availability of mattresses