Kapama Private Game Reserve occupies a vast area between the northern Drakensberg mountains and the Greater Kruger National Park. In the Limpopo Province, the reserve covers an area of approximately 13000 hectares and comprises spectacular topographical, mammal and bird specie diversity. Characterised by rolling savannah grasslands and riverine forests the reserve supports no less than 42 mammal species and approximately 350 bird species. Amongst the mammal species are the 'Big 5' – Lion, Leopard, Elephant, Buffalo and Rhino. The reserve is also home to five game lodges which are Kapama Lodge, River Lodge, Buffalo Camp.
Apart from the fact that Kapama remains the largest single owner game reserve in the region, it is also situated adjacent to Eastgate Airport (Hoedspruit) and offers open vehicle transfers directly from Eastgate to any of the lodges at Kapama. Kapama presents a total of 156 beds within the reserve and is able to transform itself into a unsurpassed incentive destination.
The reserve is situated at an approximate altitude of 500m above sea level and therefore enjoys moderate temperatures throughout the year. Summer - October, November, December, January, February and March. During these summer months, day time temperatures can reach highs of 42° and lows of 20°, it is also during this period that generally most rain falls, the region receives approximately 550 mm of rain annually. Winter - May, June and July, are the coolest months and maximum daytime temperatures could reach highs of approximately 26° and lows of 8° Naturally the spring and autumn months represent mid point between the hot and cool seasons.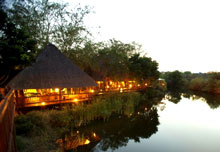 Kapama Lodge
Kapama Private Game Reserve
With sweeping views across a tranquil lake, Kapama Lodge (5 star graded) is the epitome of luxury accommodation. Spacious, air-conditioned, en suite thatched chalets, decorated to reflect the rich textures of Africa, are set in tranquil indigenous gardens.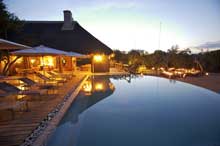 Kapama River Lodge
Kapama Private Game Reserve
Kapama River Lodge is situated within Kapama Game Reserve, and presents the prefect blend between luxurious accommodation and with 42 bedrooms, generous bed capacity.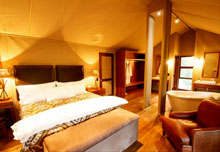 Buffalo Camp
Kapama Private Game Reserve
Reminiscent of an East African safari camp of old, Buffalo Camp offers visitors a unique and intimate experience of the African bush. It is ideally suited to those who wish to discover the bush without compromising on comfort.